A NEW LOOK AT FADO 
Miriam Ruggeri, a Portuguese singer, accompanied by Katherine Lasso Castillo on bandola, a popular instrument of Columbia, her native country, and Paris-based Dutch guitarist Wim Hoogewerf. Revisiting her origins in Lisbon, Miriam Ruggeri wanted to explore, discover and interpret Fados. The emotive power of these traditional songs enriched her vocal experience, bringing a new impetus to her approach to Western music in general. Far from confining Fado to its Portuguese origins, her aim is to open the genre to other music, irrespective of origin. The three musicians who interpret the programme delight audiences with a broad range of vocal emotion and musical simplicity, offering an original way to popularise a European cultural heritage.
UNE MUSIQUE AUTHENTIQUE
GROUP MEMBERS
Miriam Ruggeri
Singer. Miriam Ruggeri studied under Régine Crespin at the Conservatoire National Supérieur de Musique in Paris, and then at the Accademia Chigiana in Sienna and the Studio baroque in Versailles directed by René Jacobs and Rachel Yakar. Her performances as soloist were soon receiving acclaim at prestigious venues such as the Paris Opera and Opéra Comique and the Théâtre des Champs-Elysées under conductors including William Christie, Jean-Claude Malgoire, Philippe Herreweghe, Hervé Niquet, and Christophe Rousset, as well as at international festivals. Revisiting her Portuguese roots, she set out to explore the baroque heritage of the Iberian Peninsula in association with the Gulbenkian Foundation. She currently teaches singing at the Conservatoire à Rayonnement Départemental in Clamart, south of Paris.
Wim Hoogewerf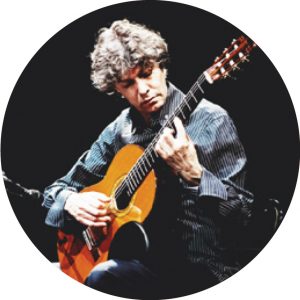 Guitar. Wim Hoogewerf graduated from Dick Visser's class at the Conservatorium van Amsterdam where he was unanimously awarded first prize. He pursued his studies with Oscar Caceres and Bertho Davezac in Paris and with Per-Olof Johnson at the Royal Conservatory in Copenhagen. His repertory takes in a very broad range from classical to contemporary works for the guitar, including premieres of some one hundred original pieces. He has performed solo and toured internationally, played in concert with the Ensemble Inter-Contemporain, Ensemble 2E2M, Ensemble ASKO, Ensemble Alternance, Ensemble Erwartung, Amsterdam Nieuw Ensemble, Merce Cunningham Dance Company and given a recital at the Carnegie Hall in New York.
Ricardo Sandoval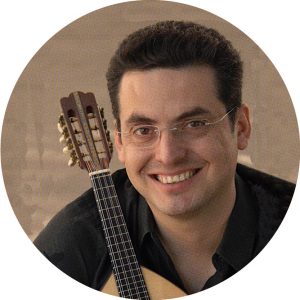 Mandolin. Classically trained, Ricardo Sandoval began learning the traditional music of his native Venezuela from a very early age. Through travelling and meeting musicians from all origins, he became conversant with different rhythms, song and popular tunes. Graduate of the Instituto Universitario de Estudios Musicales in Caracas (Venezuela), he pursued his studies of classical mandolin at the highest level with Marga Wilden-Hüsgenet Gertrud Weyhoffen at the Musikhochschule in Köln (Germany). He has won prizes at international competitions in Varazze (Italy) in 1998, and Schweinfurt (Germany) in 1999. He performs regularly at festivals in Europe, Latin America and Japan. In 2005, he was a member of the jury at the International Mandolin Competition in Osaka. Ricardo Sandoval teaches at the Ecole de Musique à Rayonnement Intercommunal in Metz and in Luxembourg. He has recorded three albums as a soloist: Nostalgia, 2000, Al Natural, 2005, Antologia de la Bandola Oriental, 2004
http://www.ricardosandoval.com
Katherine Lasso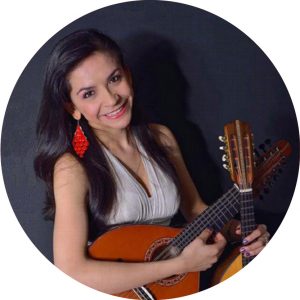 Katherine Lasso studied bandola andina with Paulo Triviño at the Academia Luis A. Calvo in Bogota. She has performed with a number of Columbian music groups and ensembles, including the Columbian Bandolas Orchestra, with which she has recorded and won several awards. In 2013, she won young talent awards from Banco de la Républica and the Alliance Française. In the same year she was awarded an ICETEX educational study grant (Crédito Educativo y Becas en el Exterior). She is currently studying mandolin at the Hochschule für Musik und Tanz Köln Standort Wuppertal with Caterina Lichtemberg, and the Conservatoire d'Esch-sur-Alzette in Luxembourg with Juan Carlos Muñoz, and has joined several mandolin orchestras and ensembles with which she has performed in several European countries. She teaches at the EMARI School in Metz, in the mandolin circles at Tétange and Differdange in Luxembourg.
OUR ALBUM, HISTOIRES DE FADO
OUR ALBUM, HISTOIRES DE FADO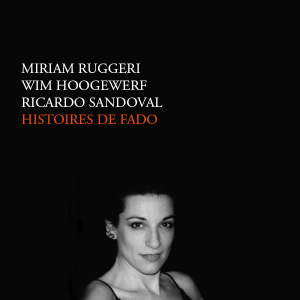 ---
"Tudo isto é fado " / Histoires de Fado
A.de Nazaré (Auteur), Fernando Carvalho (Compositeur)
---
Click here to listen to other extracts from our album.
Click to listen to other extracts from our album.
It is available by mail order (or at Miriam Ruggeri concerts):
Send your order with a cheque for 18€ (15€ + postage 3€)−
Send your order with a cheque for 18€ (15€ + postage 3€) 
made out to Miriam Ruggeri to this address:
made out to Miriam Ruggeri to this address:
Miriam Ruggeri
14 rue de Solférino
92170 Vanves
---
For more information about our group, Histoires de Fado, please consult the technical data for the show here